Skip to Content
What is the first thing to do when moving into a new house
Moving into a new home is always daunting, your mind can go a hundred miles an hour with everything that needs to be done. To take some of the stress away a task list in a prioritised order can help keep your mind focused during this stressful time.
Realestate.com.au released a list of 10 things to do before moving into a new house listing the following:
Connect your internet
Connect your energy
Have a plan for children and pets
Update friends and family with your new contact information
Change your address
Pack an un-packing box
Organise house and contents insurance
Have the new house professionally cleaned
Have spare keys cut
Pack a first night box
Let's break these down into more detail.
1. Connecting your internet and energy: These two go hand in hand when moving into a new home, you would already know your move in date or the date that you are collecting your keys so being able to give your internet provider and you electricity/ gas provider the new address is probably one of the easier things to check off your list. Also, being able to have a nice shower and relax with dinner in your new home after moving items all day is one of the best feelings especially being able to see what you're eating is always a bonus.
2. Have a plan for children and pets: This is not only for the actual moving date but this also applies to making your new home safe for them going forward. Children and pets can get under our feet, if you are using removalists it is unlikely that while putting heavy furniture into place that they look below their knees. If you are able to, enlist the help of friends or family to look after them on moving day. Encourage them to pack their on treasure box of items that they play with the most, this will lower the stress for them when entering the new home as they will have familiar items at hand and will help them settle in.
3. Updating you address details: We have already covered updating details with you utility providers but what about other organisations, family and friends.
Update magazine or box subscriptions
Contact your house/car insurance and registration provider
Update your details on the electoral roll
Let your bank know you have moved
Update your superannuation details
You can also set up a mail redirect through Australia post, it is sometimes advised to do this in case you have missed contacting anyone during your move. Use the following like if this is something that would be helpful to you: https://auspost.com.au/receiving/manage-your-mail/redirect-hold-mail/redirect-mail
4. Pack an un-packing box: An un-packing box should contain your essentials for unpacking your items in your new home. Items such as screws and bolts for furniture along with the tools required to put them together. It is also a good idea to have some cleaning supplies in this box so as items are moved in you can have the area for your belonging to go into clean and ready. This box can also be used to have spare keys for the new property and can be done in conjunction with personal items for your first couple of nights in your new home such as cloths, medications, pet food if you have a fury member of the family, basic toiletries, toilet paper, pyjamas, towels and any other supplies you may need. If you are like most people you would have your supply of tea and coffee available in this box as well.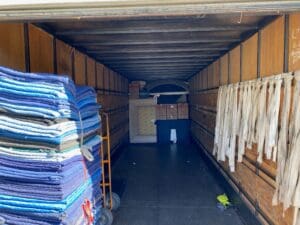 There are many quick click websites where you can find ready-made checklists to help you. And always keep your local removalist in mind when you are looking to move into your new home as they can help take some of the stress off your shoulders, it does not matter if it is a single item or an entire house, we are here to help.
Contact Scotty's The Movers Today for a Free Quote